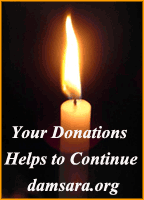 Most Ven. U. Dhammajiva Maha Thero conducted a seven day meditation retreat at Prior Lake, Minneapolis, USA during end June 2017. The Dhamma discourses were based on Sallekha Sutta, the 8th Sutta of Majjhima Nikaya. This is a very important Sutta and according to Mahasi Sayadaw, the self-training leading to lessening of defilements or Kilesa forms the subject of this Sutta. The sutta is beneficial to both the meditation practitioners and and non-practitioners alike. The sutta contains over forty unwholesome characteristics and their wholesome counterparts.
In Sallekha Sutta, Ven. Mahā Cunda visits the Buddha at Jetavana and asks the Buddha as to how to get rid of the various false views current about self and the universe. The Lord Buddha answers that it is by right comprehension of the fact that there is no "mine," "I" or "self." The Buddha then goes on to explain how false views can be expunged, how the will may be developed, and how emancipation could be found.
Please click the following link to reach the text of the sutta in Sinhala from Thripitakaya.org: සල්ලෙඛ සූත්‍රය
How to Download or Directly Listen to the audio files.
To download: You could download the file by right clicking on the file link and then selecting "save as" from the drop down menu. Save the file into a pre designated folder to listen on multiple occasions. This is the best way to save your internet allocation.
To listen directly: Please left click on the link to listen directly. Once the link is clicked, you will be directed to a separate page containing the talk. Usually the file starts to play in that window. If it doesn't you could highlight the browser window and click 'reload this page'. It will start to play.