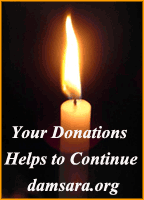 These instructions are given by Most Ven. U. Dhammajiva Maha Thero of Meetirigala Nissaranavanaya Forest Monastery, Sri Lanka. The Maha Thero is a traditionally trained meditation master of Theravada Buddhism. He has learned meditation under two great masters; Most Ven. late Matara Sri Gnānārāma Maha Thero of Sri Lanka and Sayadaw U. Panditha of Burma. He is fluent in English, Sinhalese, Pali and Burmese languages.
Most Ven. U. Dhammajiva Maha Thero primarily teaches Vipassana meditation. However, he is also trained in Samatha or tranquility meditation. He is one of the very few traditional teachers who could guide a student in either pure Vipassana or Samatha meditation according to the inherent characteristics of that student.
Please note that some of the following links will direct you to additional web pages which contain further explanations regarding the instructions. You will have to first left-click on those links to reach those additional web pages. These are indicated under the section headings.
For the Beginners:
('Left click' on the following as it will direct you to additional pages with further instructions. Nos. 4&5)
For One Day Meditation Programs
Please click here to reach the web page.
Basic Instructions Further Divided.
For the Advancing:
('Left click' on the following as it will direct you to additional pages with further instructions. Nos. 7, 10, 11 & 12)
For the Advanced:
('Left click' on the following as it will direct you to additional pages with further instructions. Nos. 3,4 & 5)