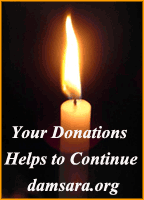 Guidelines for Reporting at One Day meditation programs are given in Sinhala. All Yogis have to develop the skill in reporting their Mindfulness meditation experience to the teacher. This is a basic skill the yogi has to develop patiently and gradually over time as it immensely helps to achieve progress in the Path.
A document to be used by the regular Yogis attending One Day programs was finalized in May 2016. This is a valuable document to both the beginners and even experienced yogis.
This is provided as a PDF document. Please click the following link to open/download it.
එක්දින වැඩමුළු සඳහා කමටහන් වාර්තාව
The above document will be helpful to understand how to do the Reporting to the teacher. However, It will become even more valuable if the Yogi could understand as to what the teacher is expecting of the student as a result of Mindfulness Meditation practice. Two sets of invaluable Dhamma talks conducted by Most Ven. U. Dhammajiva Maha Thero is provided below for that purpose.
The first set Dhamma talks are essential to the Yogis to understand Kama Ogha (කාම ඕඝ), Bhava Ogha (භව ඕඝ), Dhitti Ogha (දිට්ඨි ඕඝ). The Maha Thero expertly guide the Yogi explaining the true meaning of Buddha Dhamma and the meaning behind the Yogi's practice of Mindfulness meditation. These invaluable talks are in Sinhala.
To listen directly (to the audio): Please left click on the link to listen directly. Once the link is clicked, you will be directed to a separate page containing the talk. Usually the file starts to play in that window. If it doesn't you could highlight the browser window and click 'reload this page'. It will start to play.
To download: You could download the file by right clicking on the link and then selecting "save as" from the drop down menu.
In the second set of Dhamma talks, the Maha Thero provides a deep explanation on Samadhi (සමාධි) and guide the students as to how to develop Vipassana Samma Dhitti (විපස්සනා සම්මා දිට්ඨි) to overcome the defilements that arise due to Vipassana or Samatha Jhana.
Please click here to reach the web page on 'Basic Instructions in Meditation – In Sinhala'