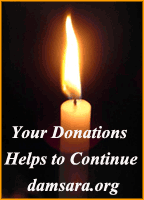 Sixty day long retreat is a special event held at Panditarama each year from 1st December to 31 January. It is a very intensive Vipassana retreat. Advanced Yogis from about 23 countries attend this special retreat. This intensive retreat is conducted by Most Ven. Sayadaw U. Pandita and his team of dedicated monks and nuns.
Most Ven. Sayadaw U. Pandita is one of the foremost living Vipassana masters of the world today.The talks are invaluable to the serious Yogis. The talks are simple, direct and straightforward, being the hallmark of a true Master. The talks conducted in Burmese are translated to English by Ven. Ma Vajira.
We have uploaded the talks given in the complete retreat. Kindly note the following;
The Dhamma talk of Day 1 is of a poor quality. A new translation in English is provided next to the talk.
The talk number 33 was only 2 minutes duration.

We are happy to inform that now the complete talk is available for downloading or listening.

The talk number 34 is given by Most Ven. Beelin Sayadaw U Pannadipa.
The talks are given in Burmese by Most Ven. Sayadaw U. Pandita and translated to English by Ven. Ma Vajira. These talks are very valuable to the serious practitioners. The focus of the retreat is the development of Satipatthana.
To listen directly: Please left click on the link to listen directly. Once the link is clicked, you will be directed to a separate page containing the talk. Usually the file starts to play in that window but if not you may highlight the browser window and click 'reload this page'. It will start to play.
To download: You could download the file by right clicking on the link and then selecting "save as" from the drop down menu.
Please click here to reach other Dhamma talks of Most Ven Sayadaw U. Pandita Maha Thero