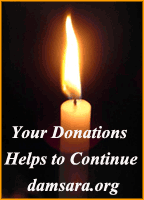 One day meditation programs targeted the Newcomers to Mitirigala Nissarana Vanaya Monastery. This was a series conducted in English. 
We have also included a new movie clip at the end as a response to a question raised by the audience regarding the use of Mindfulness meditation by the US army soldiers. That is the official trailer from the 80 minutes long movie called 'Free the Mind'. This complete movie will be shown at a future date during the residential retreats at Nissarana Vanaya Monastery.
 Please note that the loading of the Video Clips will depend on the speed of your internet connection.
To listen directly: Please left click on the link to listen directly. Once the link is clicked, you will be directed to a separate page containing the talk. You could then listen to the talk directly by clicking on the arrow mark.
To download: You could download the file by right clicking on the link and then selecting "save as" from the drop down menu.
Please click here to reach the main web page on One Day Retreats.