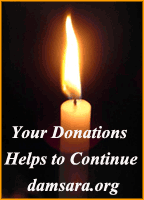 Most Ven Ajahn Brahmavamso Mahathera (known to most as Ajahn Brahm), was born as Peter Betts in London, United Kingdom on 7 August 1951. The Maha Thero is a Theravada Buddhist monk and currently is the Abbot of Bodhinyana Monastery, in Serpentine, Western Australia.
Peter Betts came from a working-class background and went to Latymer Upper School. He won a scholarship to study Theoretical physics at Cambridge University in the late 1960s. After graduating from Cambridge he taught in high school for one year before traveling to Thailand to become a monk.  Ajahn Brahm was ordained in Bangkok at the age of twenty-three by the Abbot of Wat Saket. He subsequently spent nine years studying and training in the forest meditation tradition under the late great Thai Monk, Most Ven Ajahn Chah Maha Thero. Ajahn Brahm is one of most famous western monks to train under the late Most Ven Ajahn Chah.
Whilst still a junior monk, Brahm was asked to undertake the compilation of an English-language guide to the Buddhist monastic code – the Vinaya – which later became the basis for monastic discipline in many Theravada monasteries in Western countries. Most Ven Ajahn Brahmavamso Maha Thero has a special ability to deliver Dhamma discourses to appeal to the ordinary human beings. The Maha Thero is able to communicate deep Dhamma in simple language brilliantly.
To listen directly: Please left click on the link to listen directly. Once the link is clicked, you will be directed to a separate page containing the talk. You could then listen to the talk directly by clicking on the arrow mark.
To download: You could download the file by right clicking on the link and then selecting "save as" from the drop down menu.