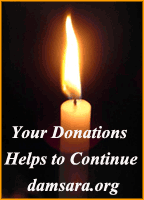 A fair number of Sri Lankans who have the knowledge to browse the internet lack adequate knowledge in their mother tongue and that becomes a limitation when learning Dhamma. Now a new web Tool is available for the benefit of such readers. With this Tool they wouldn't have to keep a Dictionary by their side whenever they encounter such problems! This is really a very useful Tool.
Please follow the guidelines given below;
This works with Mozilla Firefox internet browser. So if you don't have it installed, then you have to first get that installed in your computer. Please use this link to download and install Firefox: Free Download of Firefox
If you want to set it as the default browser (when prompted at the installation) you may do that. It is a far better browser than the Internet Explorer. After installation restart the Firefox browser.
Then, open the link given next through your Firefox browser: http://www.subasa.lk/ingiya-download.php Then click on බා ගැනීම සඳහා ක්ලික් කරන්න.
The software file will download to your computer 'Downloads' Folder. Double click on that file to install the program. Then restart the Firefox. The program will get installed if your operating system is Windows 7 or above.
If you use an older operating system then you may have to follow the instructions given in the webpage of the developer: http://www.subasa.lk/ingiya-download.php
Now you can experience the magic of this wonderful software! You can get that benefit whenever you browse the internet using Firefox. Just bring the cursor to the word you want to translate to Sinhala. Keep it pointed at the word (the arrow sign should appear) and then the meaning in Sinhala will be provided!
Please pass this on to other interested Sri Lankans!