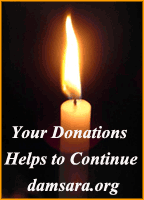 Ven. Panadure Chandaratana Thero conducted Prathama Nāthakarana Sutta during a ten day residential retreat at Nissaranavanaya Forest Monastery. The retreat was the 135th conducted at the monastery and it was held from 15th to 25th December 2016.
Prathama Nāthakarana Sutta is from the book of ten of Anguttara Nikaya. It is the 17th Sutta of Nātha Vagga. It could be found in the sixth book of Anguttara Nikaya Buddha Jayanthi Tripitaka. Please click here to download the PDF of the Sutta from Buddha Jayanthi Tripitaka.
It was an exceptionally valuable retreat for both the participants and the community of Dhamma due to the following reasons;
Ven. Chandaratana Thero conducted the retreat in an open, approachable, and a helpful manner to benefit all the participants.
The Thero developed and guided the participants even individually. The Thero was able to individually remember those Yogis who raised questions and guide them progressively over the days on their practice.
Ven Chandaratana Thero has a deep understanding in both Samatha and Vipassana meditations. He is at ease with both systems. He was able to guide the yogis appropriately on both methods.
The retreat was conducted to be especially beneficial to new Yogis. There were 33 newcomers at the retreat.
There were many Dhamma 'Gems' that were revealed at the retreat during Q&A sessions and Dhamma Talks. These will be preserved in Important Brief Dhamma Clips for the benefit of people who lead a busy lifestyle. Damsara will present those in the near future. The first of these is very important to those Yogis who have practiced for some period. It explains as to how a practitioner can develop defilements through overestimation. This can happen to many ardent Yogis/Yoginis as they try to develop a program of practice in the middle of a busy lifestyle. This 13 minutes clip is highly recommended to all the listeners. අධි මානය මතු වීම සහ එයින් මිදීම
To Listen directly: Please left click on the link to listen directly. Once the link is clicked, you will be directed to a separate page containing the talk. You could then listen to the talk directly by clicking on the arrow mark.
To download: You could download the file by right clicking on the link and then selecting "save as " from the dropped down menu.
Please click here to reach the other programs conducted by Ven. Panadure Chandaratana Thero