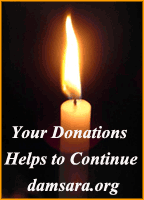 We are pleased to send you yet another invaluable proceeding of the above lengthy Sutta discourse series done by Most Ven U Dhammajiva Maha Thero. This series was started in 2011 and the 27th Dhamma sermon was conducted on the 27 July 2014. The recordings are presented as a guided meditation, a Dhamma sermon and as a Q&A session.
The Q&A session was particularly of a high standard and also has a close relation to both the sermon and another sermon conducted later on the same day at Borelesgamuwa by the Maha Thero. A link to that sermon done at Borelesgamuwa is given at the bottom of this page. There were a lot of disturbances due to rain during the Q&A session and we have cleaned it to the best of our ability.
To listen directly:  Please left click on the link to listen directly. Once the link is clicked, you will be directed to a separate page containing the talk. Usually the file starts to play in that window. If it doesn't, please highlight the browser window and click 'reload this page'. It will start to play.
To download: You could download the file by right clicking on the link and then selecting "save as" from the dropped down menu.
81. Guided Meditation_Morning – 27 July 2014
82. Dhamma Desana_27 – Anathapindikovada Sutta – 27 July 2014
83. Q&A_Anathapindikovada Sutta – 27 July 2014

Please click here to reach the other talks of the Sutta series.
Please click this link to reach the Dhamma sermon conducted at Borelesgamuwa on the same day.