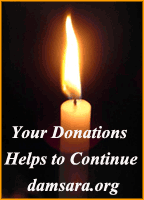 We are quite pleased to send you the link to Anathapindikovada Sutta by Most Ven U Dhammajiva Maha Thero. This is the current series being conducted at Damrivi Foundation. The Maha Thero conduct  a once a month combined program of guided meditation, a Dhamma talk on a series and a question and answer session at Damrivi Foundation. We have made this compilation a special series by providing each part separately. As a result practitioners can use the guided meditation sessions at home to remotely practice by themselves. Similarly any faraway Dhamma group could use it as a practice group session.
We have also provided here a link to the Sutta from Thripitakaya.org. Please click the link to reach the text of the sutta in Sinhala:
අනාථපිණ්ඩිකොවාද සූත්‍රය
Please note that some of the following links will direct you to additional web pages which contain the actual audio recordings. You will have to first left-click on those links to reach those additional web pages. These are items nos. 78 to 83.
To listen directly:  Please left click on the link to listen directly. Once the link is clicked, you will be directed to a separate page containing the talk. Usually the file starts to play in that window. If it doesn't, please highlight the browser window and click 'reload this page'. It will start to play.
To download: You could download the file by right clicking on the link and then selecting "save as " from the dropped down menu.