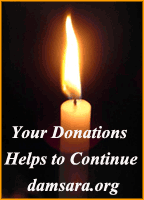 We are pleased to send you yet another invaluable proceeding of the above lengthy Sutta discourse series done by Most Ven U Dhammajiva Maha Thero. This lengthy series spanning a four year period was started in 2011. The recordings are presented as a guided meditation, a Dhamma sermon and as a Q&A session. The Guided meditation is provided in order to be useful to the newcomers.
The Dhamma sermon conducted on 22nd Feb 2015 was special as the Maha Thero explained about an area which may not have been addressed by any other Monk in Sri Lanka during our lifetime. The Q&A session also opened up new dimensions for the audience.
To download: You could download the file by right clicking on the link and then selecting "save as" from the dropped down menu.
To listen directly:  Please left click on the link to listen directly. Once the link is clicked, you will be directed to a separate page containing the talk. Usually the file starts to play in that window. If it doesn't, please highlight the browser window and click 'reload this page'. It will start to play.
Please click here to reach the other talks of the Sutta series. Please click this link to reach the Dhamma sermon conducted at Borelesgamuwa on the same day.