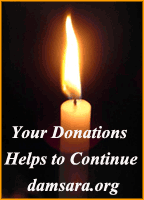 These Dhamma Talks were conducted at Mr. Heshan Sendanayake's residence at Borelesgamuwa. The talks are conducted once a month on the same day of the program at Damrivi Foundation.  These Dhamma talks are given as a continuous series by Most Ven U Dhammajiva Maha Thero.
We have also provided a PDF file of the sutta from Buddha Jayanthi Tripitaka publication. Please click this link for the PDF file.
To download: You could download the file by right clicking on the link and then selecting "save as" from the dropped down menu.
Please click here to reach the other Dhamma series in Sinhala of Most Ven. U. Dhammajiva Maha Thero