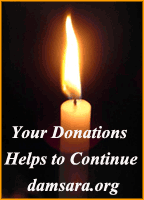 We are pleased to present another important Sutta of the Lord Buddha preached by Most Ven. U. Dhammajiva Maha Thero. In this Sutta the Buddha points out three types of people in relation to association for those who wish to progress. The Buddha gave us the following guidelines in relation to those three types of people;
There is a type of a person we should not associate. We should avoid such people as much as possible.
There is another type of person we should associate with. We should try our best to find such people.
There is another type of person who is worthy of veneration and our support/help. We should find and venerate/support/help such esteemed people.
Please click here to reach the webpage of this valuable Sutta discourse.