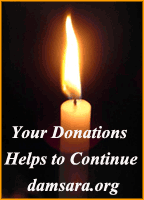 We are very pleased to send you the links to an invaluable discourse conducted at Gainesville, Florida, USA during June 2014 by Most Ven. U. Dhammajiva Maha Thero. The discourse was on Sangiti Sutta and it is a discourse which is not commonly available to the English Dhamma Listeners. 

This is one of the Sermons recited by Most Ven Sariputta Thero with the consent of the Lord Buddha. It is one of the last two texts of Digha Nikaya and it was conducted during the latter part of the great monk's life. The Sutta is a compilations of doctrinal terms, in which a large number of topics are classified as falling into groups of from one to ten members. The Sutta should have been compiled at a fairly late period of the Buddha's and the Ven. Sariputta's life, when there was already in existence a large body of doctrine and carefully transmitted discourses which required organizing for ready use.
The Sangiti Sutta was delivered at the time of Nigantha Nataputta's death. It was, in fact, this event that occasioned the preaching of the sutta, for it speaks of the dissensions and doctrinal disagreements that arose among the Jains immediately after the death of their Master, Nigantha Nataputta, otherwise known as Mahavira. This was taken as a warning example by the Ven. Sariputta, who in his discourse stresses that this text "should be recited by all in concord and without dissension, so that the Holy Life should last long for the welfare and happiness of gods and men."
The commentators say that the Sangiti Sutta is meant to convey the "flavor of concord" (samaggi-rasa) in the Teaching, which is strengthened by doctrinal proficiency (desana-kusalata). 
We have also provided links to the Sutta from buddhistlibraryonline.com and Wikipitaka below. Please click the links to reach the web pages of the Sutta.
Kindly note the original recordings of audio files were of a poor quality and we have improved those below to the best of our ability.
To listen directly:  Please left click on the link to listen directly. Once the link is clicked, you will be directed to a separate page containing the talk. Usually the file starts to play in that window. If it doesn't you could highlight the browser window and click 'reload this page'. It will start to play.
 To download: You could download the file by right clicking on the link and then selecting "save as" from the drop down menu.
Please click here to reach other Dhamma talks in English by Most Ven. U. Dhammajiva Maha Thero