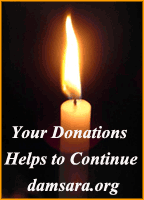 A new program of one day retreats was commenced at Nissaranavanaya Forest Monastery from October 2016. It will be held on the first Saturday of each month and would be conducted by Ven. Panadure Chandaratana Thero in Sinhala medium.
The series on Anapanasati Sutta was concluded on 09 July 2017.
Please click here for the new Series on Kayagatasati Sutta started on 05 August 2017
The discourses and the discussions on Anapanasati Sutta was an excellent series. A link to Anapanasati Sutta text in Sinhala is given below from Thripitakaya.org
To listen directly: Please left click on the link to listen directly. Once the link is clicked, you will be directed to a separate page containing the talk. Usually the file starts to play in that window. If it doesn't you could highlight the browser window and click 'reload this page'. It will start to play.
To download: You could download the file by right clicking on the link and then selecting "save as" from the drop down menu.
The series on Anapanasati Sutta completed.
Please click here for the new Series on Kayagatasati Sutta started on 05 August 2017