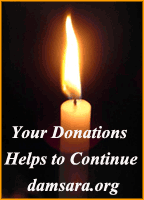 Nala Kalāpa Sutta was the sutta focused on by Most Ven. U. Dhammajiva Maha Thero at a residential retreat at Katoomba, Sydney. The retreat was conducted from 19th to 25th December 2015.
Nala Kalāpa Sutta is a very valuable sutta which is rarely discussed at Dhamma sermons today. In this Sutta the Lord Buddha emphasize and reveal a lot of valuable areas of Dhamma. One important aspect revealed in Nala Kalāpa Sutta is the explanation as to what makes a proper Dhamma Teacher or a preacher of Dhamma. Such knowledge is invaluable these days to the listeners of Dhamma available in abundance through various media.
Kindly note that during the Q&A Sessions, the questioners from the audience had asked questions without a microphone. The sound was very faint and we have improved that to the best of our ability. In some occasions the recording had captured the sound of a ticking clock. It may have happened due to the clock being kept near the recorder or as a result of us dramatically amplifying the faint audio track during Q&A sessions. In spite of these we have managed to maintain the basic quality of this rare Dhamma series for the benefit of the present and future generations.
Please click here to download the sutta from Buddha Jayanthi Tripitaka.
To listen directly: Please left click on the link to listen directly. Once the link is clicked, you will be directed to a separate page containing the talk. Usually the file starts to play in that window. If it doesn't you could highlight the browser window and click 'reload this page'. It will start to play.
To download: You could download the file by right clicking on the link and then selecting "save as" from the drop down menu.
Please click here to reach the other Dhamma series done by Most Ven U Dhammajiva Maha Thero.