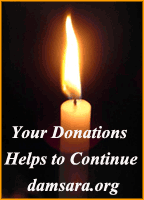 Most Ven. U. Dhammajiva Maha Thero continued the program started in February at Daham Medura.
The Maha Thero has selected the famous Dhamma Pada (ධම්ම පදය) for the series of Dhamma Talks at Daham Medura. This series is very useful to those who are commencing on the Path of Buddhist meditation. The Maha Thero skillfully blends the meditative Path and the message of the Buddha with the daily life of the average Sri Lankan people.
This is invaluable to those Buddhists who are confused by the multitude of 'Buddhist Teachings' widely available as a result of mass media.
The latest recording are nos. 21 and 22 uploaded on 11 April 2018.
How to Download or Directly Listen to the audio files. 
To download: You could download the file by right clicking on the file link and then selecting "save as" from the drop down menu. Save the file into a pre designated folder to listen on multiple occasions. This is the best way to save your internet allocation.
To listen directly: Please left click on the link to listen directly. Once the link is clicked, you will be directed to a separate page containing the talk. Usually the file starts to play in that window. If it doesn't you could highlight the browser window and click 'reload this page'. It will start to play.
01 Yatha'garam ducchannam_දහම් මැදුර_11-01-2017
02 කමටහන් පැන සහ පිළිතුරු_දහම් මැදුර_05-03- 2017
03 Uṭṭhānenappamādena_දහම් මැදුර_05-03- 2017
04 කමටහන් පැන සහ පිළිතුරු_දහම් මැදුර_02-04- 2017
05 ධම්මපද දේශනා_දහම් මැදුර_02-04- 2017
06 සති පාසැල කවි_දහම් මැදුර_කුරුණෑගල_02-04-2017
07 කමටහන් පැන සහ පිළිතුරු_දහම් මැදුර_07-05- 2017
08 සති පාසැල කවි_දහම් මැදුර_කුරුණෑගල_07-05-2017
09 ධම්මපද දේශනා 04_දහම් මැදුර_07-05- 2017
10. කමටහන් පැන සහ පිළිතුරු_දහම් මැදුර_12-07- 2017
11 ධම්මපද දේශනා 05-Anikkasāvo kāsāvaṃ_දහම් මැදුර_12-07- 2017
12. කමටහන් පැන සහ පිළිතුරු_දහම් මැදුර_06-08- 2017
13 ධම්මපද දේශනා 06_දහම් මැදුර_06-08- 2017
14. කමටහන් පැන සහ පිළිතුරු_දහම් මැදුර_03-09- 2017
15 ධම්මපද දේශනා 07_දහම් මැදුර_03-09- 2017
16. කමටහන් පැන සහ පිළිතුරු_දහම් මැදුර_08-10- 2017
17 ධම්මපද දේශනා 08_දහම් මැදුර_08-10- 2017
18 ධම්මපද දේශනා 09_දහම් මැදුර_12-11- 2017
19. කමටහන් පැන සහ පිළිතුරු_දහම් මැදුර_04-03- 2018
20 ධම්මපද දේශනා 10_දහම් මැදුර_04-03- 2018
21. කමටහන් පැන සහ පිළිතුරු දහම් මැදුර_08-04- 2018
22. ධම්මපද දේශනා 11 දහම් මැදුර_08-04- 2018
Please click here to reach the other Dhamma talks in Sinhala of Most Ven. U. Dhammajiva Maha Thero