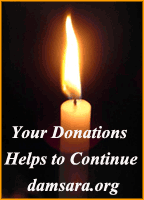 We are pleased to present a series of Dhamma talks based on a relatively unknown and yet a special Sutta. The sutta is the 10th of a group categorized as Bharandu Vagga in Anguttara Nikaya, Tika Nipatha. These suttas don't have individual names other than the group name. However, for ease of recognition it was termed as Bhandana Sutta by Most Ven. U. Dhammajiva Maha Thero when he delivered the series at Mitirigala Nissaranavanaya Monastery. 
In this Sutta, the Lord Buddha refers to a group of monks who argue and fight among themselves using venomous foul words. The Buddha mentions that he doesn't even wish to visit such an area. He further mentions that invariably such monks will lose three beneficial factors and instead gain three harmful factors. They will lose නෙක්කම්ම විතක්ක, අව්‍යාපාද විතක්ක and අවිහිංසා විතක්ක. Instead they will gain and develop කාම විතක්ක, ව්‍යාපාද විතක්ක and විහිංසා විතක්ක. This is the special nature of the Sutta. Usually we don't expect කාම විතක්ක to grow and develop in such situations.
This Sutta has a highly practical value in today's context as we can easily extend these to any community of people who are constantly arguing and verbally fighting. Let this be an eye opener and a mirror!
We are pleased to provide a PDF of the Sutta from Buddha Jayanthi Tripitaka. Please click here to download the PDF of the Sutta.
To listen directly:  Please left click on the link to listen directly. Once the link is clicked, you will be directed to a separate page containing the talk. Usually the file starts to play in that window. If it doesn't you could highlight the browser window and click 'reload this page'. It will start to play. 

 To download: You could download the file by right clicking on the link and then selecting "save as" from the drop down menu.
Please click here to reach the other Dhamma series done by Most Ven U Dhammajiva Maha Thero.