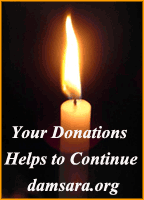 Most Ven. U. Dhammaransi Maha Thero is a meditation master of Meetirigala Nissaranavanaya Forest Monastery, Sri Lanka. The Ven Maha Thero learned meditation under the guidance of late Most Ven Matara Sri Gnanarama Maha Thero  of Sri Lanka and Most Ven Pa-Auk Sayadaw of Burma.                                              Ven U Dhammaransi Maha Thero specialize in Samatha leading to Vipassana meditation method.
Click on the link below for the talks on the series.

Meditation Retreat – Dec' 2011
Click here to go to the Announcements page.
Click here to go to the Contact page.