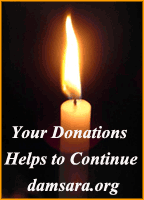 We are pleased to send you the latest update to Girimananda Sutta conducted at Borelesgamuwa by Most Ven U Dhammajiva Maha Thero.
This Dhamma talk is highly valuable due to the following reasons;
The Maha Thero leads the listener from the beginning to the achievement of the first

 Magga Phala

, the stage of the 

Stream Entry

. As such it is useful to all those who have done meditation according to Theravada tradition. Even those who are newly entering, the experienced and even the Yogis who have attained the fruites will find the talk equally valuable.
The Dhamma talk is on Cessation or 

Nirodhanupassanava

. This is explained beautifully in stages by the Maha Thero.

The Dhamma talk will provide lot of encouragement to those who are practicing the Path while helping to clear various doubts.