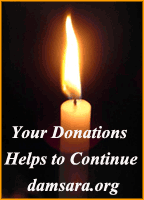 Ven. Thuruvila DhammaVijaya Thero is a pupil of Most Ven. U. Dhammajiva Maha Thero. He went to Myanmar in December 2014 and practiced meditation under the late Sayadaw U. Pandita Maha Thero for nearly one year.
The Thero went to Vijithapura Dutugamunu Aranya Senasanaya of Kalaweva, Anuradhapura at the time when the Dhamma connection was initiated with Nissaranavanaya Monastery. Ven. Thuruvila DhammaVijaya Thero has now established at Vijithapura Aranya Senasanaya.
The latest are the recordings of 26th May 2018 uploaded on 31 May 2018.
To Listen directly: Please left click on the link to listen directly. Once the link is clicked, you will be directed to a separate page containing the talk. You could then listen to the talk directly by clicking on the arrow mark.
To download: You could download the file by right clicking on the link and then selecting "save as " from the dropped down menu.
Girimananda Sutta completed.