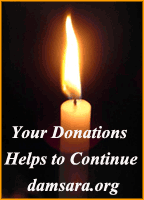 Ven. Handugala Sumanaratana Thero is a 30 years old monk of Mitirigala Nissaranavanaya Forest Monastery. The Thero has completed 8 years of Vassa and has previously stayed at various forest monasteries such as Galduwa, Belihuloya and Kinithullagala. The Ven. Thero has passed the Tipiṭkachariya exam conducted by Yogashrama Saṃsthā.
Ven. Handugala Sumanaratana Thero has a talent to explain profound Dhamma in a clear manner citing examples from the practical developmental path of Nibbana. The Thero's Dhamma sermons are valuable to those who are keen to diligently practice the Path.
How to Download or Directly Listen to the audio files.
To download: You could download the file by right clicking on the file link and then selecting "save as" from the drop down menu. Save the file into a pre designated folder to listen on multiple occasions. This is the best way to save your internet allocation.
To listen directly: Please left click on the link to listen directly. Once the link is clicked, you will be directed to a separate page containing the talk. Usually the file starts to play in that window. If it doesn't you could highlight the browser window and click 'reload this page'. It will start to play.
To be continued….