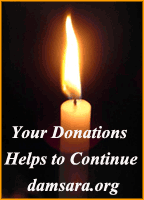 Melbourne Retreat 2006 was one of the early retreats conducted by Most Ven. U. Dhammajiva Maha Thero. The Dhamma Talks and the discussions are presented in a concise, precise manner benefiting the listeners. The series also has a historical value being one of the earliest retreats conducted by the Maha Thero to a group of lay practitioners in Australia.
We are grateful to Yogini Isha Suriapperuma who preserved it and handed it over to Damsara for the benefit of our Dhamma listeners.
We have restored and edited the audio files to improve the quality.
To listen directly: Please left click on the link to listen directly. Once the link is clicked, you will be directed to a separate page containing the talk. Usually the file starts to play in that window. If it doesn't you could highlight the browser window and click 'reload this page'. It will start to play.
To download: You could download the file by right clicking on the link and then selecting "save as" from the drop down menu.
Please click here to reach the other Dhamma series done by Most Ven U Dhammajiva Maha Thero.