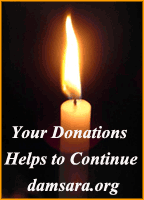 Phena Pindupama Sutta was the Sutta taken for discourses during the meditation retreat conducted at Adelaide, Australia during January 2016. The retreat was conducted by Most Ven. U. Dhammajiva Maha Thero mainly in Sinhala. There were Q&A sessions in English and we have provided those separately for the benefit of English language listeners.
Phena Pindupama sutta is from SN, Khandaka Vagga and in it the Lord Buddha use the simile of a glob of foam while being at the bank of the river Ganges to explain deep Dhamma. We have provided links to the sutta in both Sinhala and in English.
Please click here to download the Sutta from Buddha Jayanthi Tripitaka.

Please click here to read a description of the Sutta in English from accesstoinsight.org.
To listen directly: Please left click on the link to listen directly. Once the link is clicked, you will be directed to a separate page containing the talk. Usually the file starts to play in that window. If it doesn't you could highlight the browser window and click 'reload this page'. It will start to play.
To download: You could download the file by right clicking on the link and then selecting "save as" from the drop down menu.
Please click here to reach the other Dhamma series done by Most Ven U Dhammajiva Maha Thero.