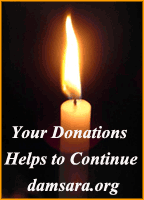 These recordings are of a retreat conducted by Most Ven U Dhammajiva Maha Thero during September 2011.
The editing of these valuable Dhamma series was sponsored by a devoted Sri Lankan residing in the U.S.A.
Please click below to reach the text of the Sutta in Sinhala from thripitakaya.org;
ගොපාලක සූත්‍රය
To Listen directly: Please left click on the link to listen directly. Once the link is clicked, you will be directed to a separate page containing the talk. You could then listen to the talk directly by clicking on the arrow mark.
To download: You could download the file by right clicking on the link and then selecting "save as " from the dropped down menu.
01 – Introduction to Gopalaka Sutta
02 – Discussion 1_Gopalaka Sutta
03 – Dhamma Desana 01_Gopalaka Sutta
04 – Dhamma Desana 02_Gopalaka Sutta
05 – Discussion 02_Gopalaka Sutta
06 – Dhamma Desana 03_Gopalaka Sutta
07 – Dhamma Desana 04_Gopalaka Sutta
08 – Discussion 03_Gopalaka Sutta
09 – Dhamma Desana_Nivarana Pahaanaya
10 – Dhamma Desana 05_Gopalaka Sutta
11 – Dhamma Desana 06_Gopalaka Sutta
12 – Discussion 04_Gopalaka Sutta
13 – Dhamma Desana 07_Gopalaka Sutta
14 – Dhamma Desana 08_Gopalaka Sutta

Please click here to reach the other Dhamma recordings of Most Ven. U. Dhammjiva Maha Thero