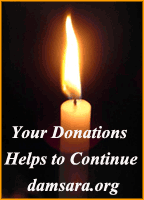 We are pleased to present yet another important Sutta of the Lord Buddha preached by Most Ven. U. Dhammajiva Maha Thero. The Buddha explained the meaning of Holy Life to us using six sets of sixes in this Sutta. The Buddha introduces the Sutta to us using a beautiful quote as follows;
"Monks, I will teach you the Dhamma admirable in the beginning, admirable in the middle, admirable in the end; I will expound the holy life both in its particulars & in its essence, entirely complete, surpassingly pure — in other words, the six sextets. Listen & pay close attention. I will speak." (Translated from Pali by Thanissaro Bhikku- accesstoinsight.org)
This Sutta is from Majjhima Nikaya, Upari Pannasaka, Salayatana Vagga of Tripitaka.  We are pleased to provide a PDF of the Sutta from Buddha Jayanthi Tripitaka. Please click here to download the PDF of the Sutta.
Also included next is a link to the webpage of the Sutta from Accesstoinsight.org. Please click here to reach the Sutta in English
To listen to the following Dhamma talks directly:  Please left click on the link to listen directly. Once the link is clicked, you will be directed to a separate page containing the talk. Usually the file starts to play in that window. If it doesn't, you may highlight the browser window and click 'reload this page'. It will start to play.
 To download: You could download the file by right clicking on the link and then selecting "save as" from the drop down menu.
Please click here to reach the other Dhamma series done by Most Ven U Dhammajiva Maha Thero.