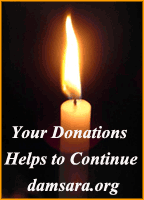 Most Ven. U. Dhammajiva Maha Thero conducted a three day retreat at Connecticut, USA in Sinhalese medium during July 2018. The Dhamma sermons of the retreat were based on the Ananda Sutta which focuses on the benefits of Mindfulness of Breathing or Anapanasati meditation.
Please click here to read the text of the Sutta in Sinhala from thripitakaya.org
Please click here to read the text of the Sutta in English from dhammatalks.org
Kindly note that the original recordings sent to us were of a poor quality. We have improved the sound as much as possible through audio restoration.
How to Download or Directly Listen to the audio files.
To download: You could download the file by right clicking on the file link and then selecting "save as" from the drop down menu. Save the file into a pre designated folder to listen on multiple occasions. This is the best way to save your internet allocation.
To listen directly: Please left click on the link to listen directly. Once the link is clicked, you will be directed to a separate page containing the talk. Usually the file starts to play in that window. If it doesn't you could highlight the browser window and click 'reload this page'. It will start to play.
Please click here to reach the other Dhamma recordings in Sinhalese of Most Ven. U. Dhammajiva Maha Thero