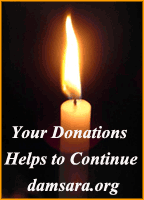 We are pleased to present the recordings from a one day meditation program series conducted at Koralawella, Moratuwa, Sri Lanka. This was a monthly series in English  conducted by Most Ven. U. Dhammajiva Maha Thero. The program was sponsored by Vishwa Pārami Foundation.
This replaced the previous program for the Youth conducted at the same venue. This program in English was more intensive and focused on dedicated practitioners, either Young or old. As such this new program was also attended by some dedicated Youth who had developed a regular practice as a result of the previous meditation program for the Youth. The sutta selected by the Maha Thero is Sālā Sutta and it is a continuation of the same Sutta conducted at the Youth Program. Please click here to reach the previous sessions of the Program for the Youth.
The Lord Buddha, while staying at Sālā, addressed the monks, teaching them the necessity of practicing the four Foundations of Mindfulness (Satipatthana) by Novices, Sekhas (Stream Enters and up) and even the Arahants (who have achieve the full liberation). Ref. SN, Maha Vagga
To listen directly: Please left click on the link to listen directly. Once the link is clicked, you will be directed to a separate page containing the talk. You could then listen to the talk directly by clicking on the arrow mark.
To download: You could download the file by right clicking on the link and then selecting "save as" from the drop down menu.