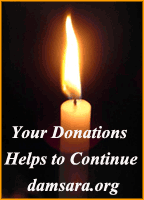 Posala Sutta Questions in English provides the questions raised by the Yogis in English during the meditation retreat conducted at Toronto Mahavihara during May 2015 by Most Ven. U. Dhammajiva Maha Thero.
The sutta is short and yet a deep one is about a discussion between the Lord Buddha and Posala. The question raised by Posala is about higher Jhanas and it is not easy to conduct a series of Dhamma talks explaining the Buddha's answer. Most Ven. U. Dhammajiva Maha Thero explains the question and the answer from various angles and it is an invaluable gift to the practitioners of meditation at higher levels.
Posala Sutta Questions in English page contains short Q&A sessions in English recorded during 07 days. Kindly note that one day, the Maha Thero explains a small section in Sinhala for a few minutes. This has been kept without removing for preserving the full meaning. 
To listen directly: Please left click on the link to listen directly. Once the link is clicked, you will be directed to a separate page containing the talk. Usually the file starts to play in that window. If it doesn't you could highlight the browser window and click 'reload this page'. It will start to play.
To download: You could download the file by right clicking on the link and then selecting "save as" from the drop down menu.