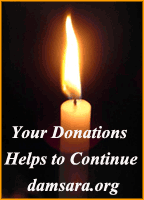 We are pleased to provide the recordings of the 14th 60 Day Special Retreat conducted by Most Ven. Sayadaw U. Pandita in Myanmar. Sayadaw U. Pandita is considered to be one of the foremost living Masters of Vipassana meditation in the world. Each year he conducts a 60 day intensive Vipassana meditation retreat at the Panditarama Forest Meditation center. He had been diligently conducting this retreat for many years.
The Sayadaw emphasize the value of Heedfulness or Appamada and points out that the whole of Tripitaka could be summarized into that one word – Appamada! The Sayadaw U. Pandita goes on to describe the Samatha and Vipassana Jhana during this 14th 60 Day Special Retreat.
In the second half of the retreat during January 2013, the Sayadaw explains the Path up to the progress of Insight Knowledges.
The talks are in Burmese with excellent translations in English and are invaluable to those who wish to learn the Theravada Buddhist meditative Path from the beginning. The English translations are done by the American Nun, Sayalay Ma Vajirani. Except for the first talk, all the other translations are done by Sayalay Ma Vajirani.
To download: You could download the file by right clicking on the link and then selecting "save as" from the drop down menu.
To listen directly:  Please left click on the link to listen directly. Once the link is clicked, you will be directed to a separate page containing the talk. Usually the file starts to play in that window. If it doesn't, you could highlight the browser window and click 'reload this page'. It will start to play.
Please click here to reach other Dhamma talks of Most Ven Sayadaw U. Pandita Maha Thero