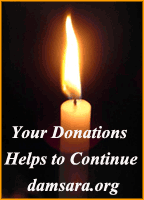 We are pleased to send you the recordings of the first one day meditation program held at Koralawella, Moratuwa, Sri Lanka. This was jointly conducted by Most Ven U Dhammajiva Maha Thero and his lay student Aruna Manathunge.
The program was conducted in a novel manner with the inclusion of mindful exercises. Even experienced adult meditation practitioners with years of practice could gain some benefits by listening to the recordings.
We have also included some written material for the benefit of the listeners.
To listen directly: Please left click on the link to listen directly. Once the link is clicked, you will be directed to a separate page containing the talk. You could then listen to the talk directly by clicking on the arrow mark.
To download: You could download the file by right clicking on the link and then selecting "save as" from the drop down menu.