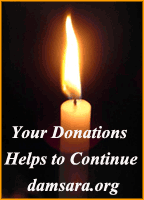 We are pleased to send you the recordings of the sixth one day meditation program held at Koralawella, Moratuwa, Sri Lanka. This was jointly conducted by Most Ven U Dhammajiva Maha Thero and his senior lay student Aruna Manathunge. Please click here to download an introduction to the teachers and the day's program.
This invaluable program was kindly sponsored by Vishwa Parami Foundation.
This month's program was once again conducted based on a special Theme. The day's theme was "The Development of Ardency in Life through Mindfulness and Clear Comprehension." The program content will be useful to most of the adults as well.
The days program intended to address the following key areas;
Teach the skills needed to maintain a long term and a regular practice. Most of the practitioners give up meditation early due to monotony and their inability to accept changeability.
Practical advantages of Sila or Morality through modern findings on 'delayed gratification'.
In addition to the audio files, we have also provided below the links to the Video clips shown at the program. Kindly note that the loading of the Video clips will depend up on the speed of your internet connection.
To listen directly: Please left click on the link to listen directly. Once the link is clicked, you will be directed to a separate page containing the talk. You could then listen to the talk directly by clicking on the arrow mark.
To download: You could download the file by right clicking on the link and then selecting "save as" from the drop down menu.
Please click here to reach the previous sessions of the Youth Meditation Program