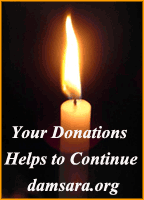 Most Ven. U. Dhammajiva Maha Thero conducted a five days residential retreat from end January to the beginning of February 2017.
The Dhamma sermons during the retreat were based on Lonaphala Sutta from Anguttara Nikaya and it explains how to reduce the effects of bad Kamma. The Buddha using a simile of a Salt Crystal explains in the Sutta that the same Kamma can take an undeveloped person to Hell while not making much of an effect on a morally and spiritually developed practitioner of Dhamma.
A PDF of the Sutta from Buddha Jayanthi Tripitaka could be downloaded by clicking here.
Instructions for Downloading and Direct Listening
To download: You could download the file by right clicking on the word 'Download'and then selecting "save link as" from the drop down menu. Save the file into a pre designated folder to listen on multiple occasions. This is the best way to save your internet allocation.
To listen directly: Please left click on the Audio Player icon to listen directly. It will start to play.
01. RET 137 Lonaphala Sutta_Q&A 01_30-01-2017
Download
02. RET 137 Lonaphala Sutta_Dhamma Talk 01_30-01-2017
Download
03. RET 137 Lonaphala Sutta_Q&A 02_31-01-2017
Download
04. RET 137 Lonaphala Sutta_Dhamma Talk 02_31-01-2017
Download
05. RET 137 Lonaphala Sutta_Q&A 03_01-02-2017
Download
06. RET 137 Lonaphala Sutta_Dhamma Talk 03_01-02-2017
Download
07. RET 137 Lonaphala Sutta_Q&A 04_02-02-2017
Download
08. RET 137 Lonaphala Sutta_Dhamma Talk 04_02-02-2017
Download